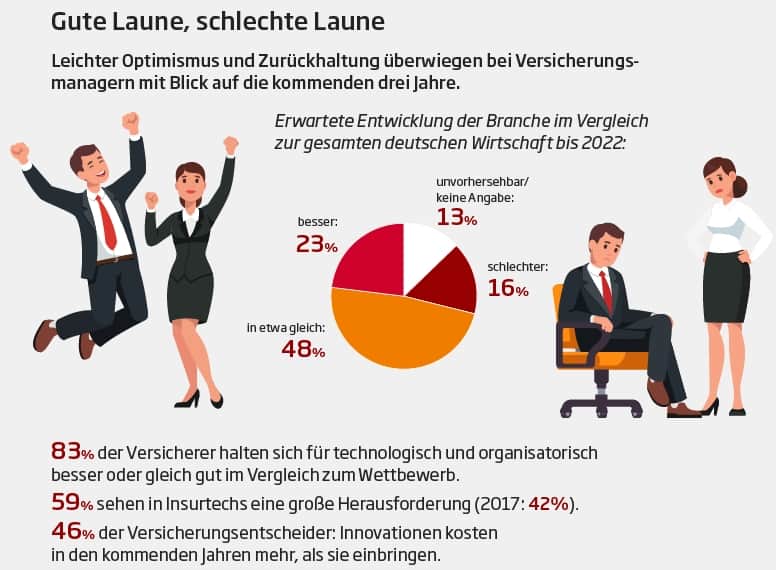 Industry Compass Insurance: Insurance industry remains in low mood
F ÜR the current financial year expects the majority of the decision makers of the insurers and brokers on average at least once with premium increases, the Federation of the German Insurance Association (GDV). In the medium to long term, however, the industry is turning to growth dampers. At best, the mood is cautiously optimisticclassified. Decision-makers from smaller insurers with up to 500 employees look a lot more pessimistic about the future than the corporations. This is mainly due to the high bureaucratic costs for the implementation of EU regulations. The big companies can better allocate the fixed costs that Solvency II, the General Data Protection Regulation (DSGVO) and the IFRS 17 accounting standard have over the mass of contracts and employees than insurers with fewer assets and staff.
Regulatory adjustments required
Slight discharge will signal insurers in the medium term under the Solvency II regulations. The EU Commission wants to re-evaluate the topic of 2020. The GDV had pointed out after an interim balance that the legally required solvency reports are hardly read, and called for a streamlining. For additional simplification, insurers could provide their own resources in the coming years. The plan is to outsource costs for future regulatory adjustments by investing in cloud solutions to providers. Almost one in three executives (31 percent) expects the measure to automatically adjust to regulations, the study said.
Compared to other insurance providers, the industry is self-confident. Forty-three percent of companies consider themselves better prepared for technological and organizational reasons than their direct competitors. Twelve percent see themselves in a weaker position. Brokers are a little more reserved here than their product providers. Of them, only 32 percent say they are better than their competitors, 18 percent consider themselves weaker. Above all, they fear that they will gradually be replaced by online platforms and InsurTechs. Overall, 59 percent of insurers and brokers consider InsurTech's serious threat in the battle for market share.
However, in search of new growth impulses, the sector is strategically a bit unimaginative, as the study by Sopra Steria shows: on the revenue side, many insurers remain true to their established strategies. For 76 percent, winning new customers is still the mainstay of growth. After all, 67 percent of surveyed insurers are increasingly focusing on cross-selling strategies with regular customers.
The differentiation from competitors in the insurance industry is still strongly above the price, especially in property insurance. Thus, virtually every insurer is forced to search organization and processes meticulously for potential savings. However, customers also appreciate fast and well-founded advice on various channels as well as products that constantly adapt to their living situation. This growth path with loyal customers should be pursued more by more insurance companies. "
Automation and digitization as a hope
Investing in automation, digitization and collaborations is on the agenda in the industry, in order to gain both cost advantages and customer satisfaction. From the point of view of 61 percent of surveyed decision-makers in insurance companies, their own company should strive for a technological pioneering role. Key levers, according to Sopra Steria and the industry compass, are Robotic Process Automation, consulting with the support of chatbots, combating insurance fraud using artificial intelligence and cloud computing.
More than every second company also wants to enable more direct online financial statements with continuous digital processes and at the same time massively reduce the combined ratio. The benchmark in claims management is digital insurers like One, which regulate up to 60 percent of all damage in real time and fully automatically. 63 percent of insurance managers see great opportunities to set growth momentum in sales by switching to an IT landscape from the cloud. After all, every fourth insurer wants to offer faster and easier modular modular products for customers in the future and to overcome existing divisional structures. On the subject of cooperation with InsurTechs many decision makers are still hesitant. Only four out of ten insurance companies consider cooperation to be useful
Trends in sales: less intermediaries, but not complete digitization
As guarantors of growth in the insurance industry, brokers and brokers with their proximity to customers are considered. Looking ahead to the next three financial years surveyed insurance executives see a decline in mediator numbers in favor of direct business via online channels, according to the industry compass. As a sales model of the future, however, three-quarters of respondents expect no end to personal advice, but a hybrid approach.
For many insurance products , the consultants remain indispensable , but are supported in the initiation of business much stronger than before by technologies such as artificial intelligence. Even purely digital insurers rely on proximity to experienced sales experts. For example, Neodigital and Wefox offer digital property insurance through brokers. Wefox also supports brokers with a digital back office.
We will see how insurers, with their brand awareness, brokers and intermediaries with their sales know-how and InsurTechs with their technical innovation strength, work together much more closely. "
The "Industry Compass Insurance 2019" study was conducted in two steps. Sopra Steria Consulting and the FAZ Institute have brought together insurance executives in a think tank to discuss the topics that are driving the industry. In addition, in March and April 2019, 100 insurance executives were interviewed on industry trends, challenges and strategies. The online survey was conducted with executives from insurers of different divisions and sizes. You can order the complete study from Sopra Steria for € 75 plus VAT